You Is Smart. You Is Kind. You Is Important.
In the award winning 2011 movie, The Help, starring Emma Stone, Viola Davis, and Octavia Spencer, a woman caring for another thoughtless woman's daughter often tells the little girl, "You is smart. You is kind. You is important." What she knew that many of us do not is, that words have real power. I know, we've heard it all before, say nice things about yourself and others, be positive blah, blah, blah. That advice seems empty and even cliché because after all, words don't really have power do they? Sticks and stones can break our bones but names will never hurt us, right? Wrong. What if Team Krause at NXT LVL Wrestling Academy told you scientific evidence has shown that the words we speak impact our physical reality?
What if calling yourself stupid actually could lower your IQ and negatively impact your grades? What if calling yourself ugly or fat could actually negatively alter your physical appearance? Would you still speak those words over yourself? Would you go to sports practice or social clubs and utter those two destructive words, I can't, or would you speak words that could have a positive physical impact? When you consistently speak negative words, not only do you change the way your brain functions (You create bad brain wiring, but more on that in another blog,) but you may actually alter your physical appearance and abilities.
There are two mind blowing experiments that have been conducted since early 2000s that are significant scientific evidence of the measurable power of words. In 2004, Dr. Masaru Emoto performed an experiment on water crystals from various water sources using verbal and written communication, as well as music. He used words like thanks, love and appreciation, truth etc. He spoke directly to the water with encouraging and loving words, played beautiful music, and even taped words on the containers that held the water. The results were amazing. The container of water molecules when frozen changed from their original form, to magnificent and beautiful crystals. They literally transformed into beauty.
But then he did something else. In another container full of the same water, he spoke words such as, "I hate you, you make me sick," and, "I hope you die." The same water when frozen, formed distorted and ugly crystals. The water became deformed. Both of these containers had the same water, yet the only difference was the power of the words involved.
What is the human body mostly made of? It is made of about 70% water. Imagine if words have that much impact on water, how are your words affecting the water running through your body? Water that has a significant impact on your health, physically and mentally.
Another experiment that was done, involved rice. A teacher took cooked rice and split it into two identical containers. She had students say things like, "I hate you," and "you're worthless," to one container, and to the other they said things like, "I love you," "you are smart," and "You can accomplish anything." Within days, the cup that was given positive words fermented naturally and still looked healthy. The other rice, the one who had negative and hateful words spewed at it, was dark and moldy.
If this is how water and rice react to words, imagine the real impact of words on humans. Science is proving that words play a significant role in determining success or failure, and we are just now beginning to understand the real consequences of what we speak into existence.
This is why the words we speak to ourselves and to those around us, especially children, are crucial. If words truly have power, what do you think would happen if instead of telling yourself, "I can't do it," or "I'm stupid," you said, "I can and I will do it," or, "I am smart. I know if I keep working, I will get good grades."
Team Krause believes every goal or endeavor we set out to accomplish starts in the mind and so does Dr. Caroline Leaf, a cognitive neuroscientist with a PhD in Communication Pathology and a BSc in Logopedics and Audiology, specializing in metacognitive and cognitive neuropsychology. In one of her TEDx talks, she discusses thoughts and how they literally change the physical and cognitive function of the brain for better or worse.
The words we think are often the words that flow from our lips and those words have real tangible benefits or consequences. If you are going to accomplish anything in life, you have to speak words of affirmation in your life and in the life of others.
Here's an assignment for you and your family. Over the next month, anytime you catch yourself speaking negativity over yourself or others, immediately correct it and replace it with something positive. Instead of, "I can't do it," replace it with, "I will do it." Keep a daily journal for just one month and note every time you thought a negative thought or spoke negative words, and what you replaced them with. At the end of the month, you might be surprised at your overall change. To learn more about how you can train your mind to improve overall health and brain function, read Dr. Caroline Leaf's book, Switch On Your Brain.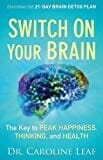 We'd love to hear from you on this. When you do this assignment, follow up and send us a message of what you learned or how changing what you say and think has impacted your life. Don't forget to sign-up here for blog updates and other news!