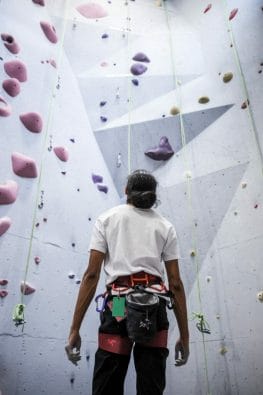 What do Adam Levine, Mariah Carey, Serena Williams, and Kate Winslet have in common? They all had low self-esteem in their adolescent years. It's surprising to hear how many beautiful and successful athletes and celebrities who say their younger years blew chunks. But let's face it – even the popular and good looking kids when they become adults will sometimes confess how bad they felt about themselves on the inside. And a lot of those issues can be boiled down to what Coach Krause of NXT LVL Wrestling Academy believes everyone, especially our youth, are lacking – three core disciplines that will help youth build confidence and achievement – physical fitness, training the brain, and proper food for fuel.
While these might sound like simple and generic ingredients, there are a lot of bullet points that are under each discipline, and Coach Krause's team is going to be talking about them in-depth on his blog. While wrestling is his sport, Krause wants to see all youth succeed whether it be in sports, academics, social clubs, arts etc. Through his motivational and educational tools for healthy living – he will coach our youth on how to develop the mind and body to achieve success in every area of their lives.
Physical fitness. Not everyone is a top-notch sprinter, long distance runner, nor do they have Sampson-like strength. But what our young do have is 24/7 access to sports idols and gifted athletes who stand-out because of unusual ability. While it's good to have a mentor, what is often happening is, kids are unfairly comparing themselves to these icons. They realize they don't measure-up, probably will never achieve what that athlete has because they are not naturally gifted, and they give up on athletics and physical fitness all-together. It may be the kid who ultimately enjoys art, chess, acting, or music, so they don't bother with physical fitness, because they aren't going to make the team. Unfortunately, what they don't understand is, physical fitness doesn't just help the athlete, it helps those engaging in the above mentioned activities as well. How can physical fitness help with painting or playing an instrument? Stay tuned for future blogs that will answer this question.
Train your brain. Ever heard the saying, battlefield of the mind? We can be our own best friend or our own worst enemy, depending on which inner voice wins that battle for our mind. It's rough being young sometimes. That awkward stage, not sure of who you really are or where you fit in, and often hormones compound everything by inflating those already challenging emotions. You know, one minute you're pretty sure you're going to cut that person out of your life forever, they're crappy, horrible humans who don't deserve to share your space – wait – they just texted – no, I think I love them again – then you cry because you feel bad. It all feels so irrational.
Unfortunately, again in this time of social media, younger people often stress from comparing themselves to others and for many (even the popular kids who sometimes fake confidence) their internal dialog goes something like this, "I'm not as pretty as her, nobody likes me," or "He is way better looking and athletic. I'm a loser, nobody is ever gonna go for me." When that internal dialog turns negative, it can actually rewire the brain in a bad way and change the way your mind functions. Repeated negativity can actually impact the connections in the brain and make it harder to be positive in the long run.
It's important to train your brain not just to think in a manner that is beneficial to your well-being, but that makes positive connections that can benefit whatever you choose to do in life. Those positive connections are critical for not only success, but to live a life that is free from constant emotional turmoil and sometimes even depression. We will be discussing this further and looking to experts on how to train your brain for positive thinking.
Food for fuel. Let's face it – who doesn't get a little pep in their step, and excited to shove that cheeseburger down their throat, tear up some fries, destroy a donut, then wash it down with a Diet Coke? Everyone has a different dietary lifestyle, but too many of us have our food addictions. However, there are key foods we all should eat to give our body and mind proper fuel. If you ingest the wrong foods laced with sugar, chemicals and other harmful things, the negative impact will affect your ability to be physically fit and to effectively train your brain.
For instance, it is now well known that sugar is as addictive if not more than cocaine. Really, think about that! Studies have shown it can lead to diabetes, inflammation in your body that can cause painful physical symptoms, and can cause negative emotions like irritability, sadness and sometimes even depression. It's easy to pick on sugar – but what other foods are out there that may be affecting your performance, emotions, and energy levels? And! Good news, what foods taste as good as those toxic yummy treats that can be substituted to minimize the negative impact on your body and mind.
The younger a person is when they learn about various foods and how they drain or fuel the body, the better shot they'll have at maintaining a healthier lifestyle through adulthood. In our future blogs, we will discuss the ways various food affects our bodies and what foods can be used for a positive impact to help succeed in the other areas. Coach Krause and his team believe it is imperative that our youth learn tools to succeed and how to value themselves. This can be accomplished through his three coaching rules above. We are excited to go on this journey with our youth and their family's to transform lives at an early age and watch them succeed!