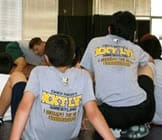 Camps and clinics are a great opportunity to hone your wrestling skills. Coach Krause helps wrestlers across the country to be better athletes and stronger competitors. Check out his upcoming schedule to attend a camp or clinic near you.
If you are a coach or wrestling club looking for Coach Krause to come to your facility, click here for more information.
If you would like to book a camp or clinic with Coach Krause, please email nxtlvlwrestling@hotmail.com for more information. Spaces fill up quickly!
2019 Camps and Registration
Dearborn Training Camp
April 15, 2019 -May 29, 2019
Dearborn, MI
Cost: $15
REGISTER NOW